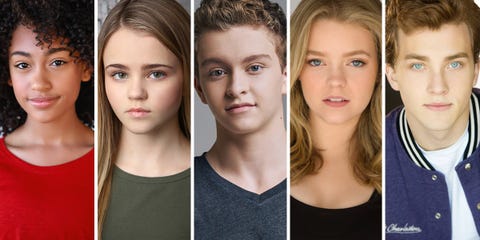 **Warning: Spoilers Ahead**
This quarantine has left many of us at home looking for the next series to watch. A great series that I found is
Little Fires Everywhere
on Hulu, which contains some familiar faces, including Reese Witherspoon and Kerry Washington. I first tuned into the series because my favorite actor, Jesse Williams of
Grey's Anatomy
fame, had a small role in it. However, I kept watching because of the intelligent dialogue and important social issues it discusses, such as motherhood, racism, premarital sex, and abortion, among others.
In simplest terms,
Little Fires Everywhere
is about a woman named Elena who will do anything to keep up a perfect facade for her family and the outside world. However, her interaction with a single mother(Mia) and her teenage daughter (Pearl) brings her world to a crashing halt. Elena tries to help Mia and Pearl, but both women are leery of one another because of their past experiences.
The dynamic between Elena and Mia is interesting. On one hand, both women bond over being mothers, yet both have secrets that would destroy their families if they came out. Elena and Mia come from two extremely different worlds. This is evident in how they interact with their children. For instance Elena expects perfection from all four of her children, especially the youngest, Izzy. Mia's more laid back and doesn't push Pearl to do anything she doesn't want to do. Both mothers have different parenting styles and that plays an important part in the action of the series.
Kerry Washington and Reese Witherspoon are extremely talented in their own right. However, I was incredibly impressed by the outstanding performances of the younger cast. They weren't trying to act like adults and there was an incredible genuineness to this. One scene that caught my attention was between Pearl, played by Lexi Underwood, and Lexi, played by Jade Pettyjohn. Lexi, who happens to be the "perfect daughter" of Elena, gets pregnant and has Pearl drive her to the clinic. Lexi decides to write Pearl's name down on the paperwork because she doesn't want her mother to find out about the abortion. It was heartbreaking that Lexi couldn't confide in her mother because she didn't want to disappoint her and have her perfect image destroyed.
Little Fires Everywhere
is based off a novel of the same title by Celeste Ng. There are always slight differences between the film/tv series and the novel they are based off. I'm intrigued to see what they might have changed or left out from the novel to the series.
I give this series a 9/10 for acting and its interesting take on motherhood from two different viewpoints.
Little Fires Everywhere
received mixed reviews from Rotten Tomatoes. Some loved the acting while others thought the performances were shallow. I loved the acting and thought the performances had great emotional depth to them. You'll have to judge for yourself.
If you've already seen everything on Netflix, then give this intriguing series a try. I have a feeling you won't be disappointed. Stay safe, fellow viewers.
Lisa's Score: 9/10